The high pressure mercury lamp UV Accelerated Weathering Tester uses a fluorescent ultraviolet lamp to simulate the effect of sunlight, and the tested material is placed in the light at a certain temperature for testing. Reproduce the weathering effects of months or years outdoors in days or weeks. Maintenance-free structure design, more convenient to use and more energy-saving.

The temperature control system and lighting system of the equipment are independent, and the temperature can be set at the same time when the ultraviolet light is used, or only the temperature test can be performed, as long as the light is turned off. But do not exceed 80 ℃ when doing the temperature test, so as not to cause damage to the UV lamp.
1. Light source
1. The UV Accelerated Weathering Tester includes UV irradiation and dark cycle functions. Users can set the two functional times by themselves; the total test time has a power failure hold function, and it automatically resumes operation after a power call. The machine uses a 1000W ultraviolet high-pressure mercury lamp tube as the light source, and conducts an accelerated weather resistance test on the material by simulating the ultraviolet radiation state (such as 40°C) in natural sunlight to obtain the weather resistance result of the material. The effective life of the lamp can be about 1000 hours.
2. The constant temperature structure design of QINSUN UV Accelerated Weathering Tester is convenient for users to operate.
2. Product Specifications and Parameters
Product model ZN-C
Studio size W*D*H (mm) 600×500×800
Dimensions W*D*H(mm)810×700×1620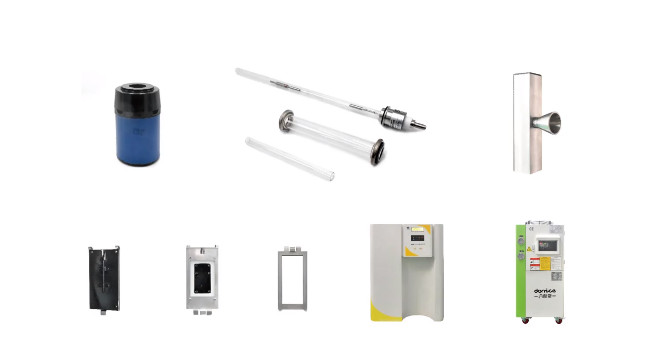 Use a light source of 1000W UV high pressure mercury lamp
Wavelength peak 365nm
A sample holder stainless steel sample holder, can hold 24 pieces of 80*35mm test pieces
Lighting temperature range RT+10℃~60℃/temperature tolerance is ±2℃
Dark temperature range RT~60℃/Temperature tolerance is ±2℃
Temperature control method Microcomputer PID self-tuning temperature control method
The maximum timing of the timing device is 9999H; with a power failure hold function, it will continue to work after a call
Function selection includes continuous and cycle selection, light and dark time can be adjusted when cycle function is selected
Power supply voltage AC220V
It is recommended that the instrument be used in an environment of 5 to 35°C, 40% to 85% R.H, and 300mm away from the wall.
1000W High Pressure Mercury Lamp UV Accelerated Weathering Tester
3. Equipment use environment:
1. Ambient temperature: 5℃~+28℃ (average temperature within 24 hours≤28℃)
2. Ambient humidity: ≤85%R.H
PS: The operating environment needs to be below 28 degrees at room temperature and well ventilated.
QINSUN can provide customers with reliable UV Accelerated Weathering Tester. It can fully meet the test requirements, welcome to inquire about relevant information!