The Xenon lamp aging test chamber can simulate the hazards caused by sunlight, rain and dew, use the xenon lamp to simulate the effect of sunlight, and use the condensing moisture to simulate rain and dew, and the material to be tested is placed in a cycle program of alternating light and moisture at a certain temperature Conduct tests to reproduce hazards that occur outdoors for months or even years in days or weeks, artificial accelerated weathering data can help select new materials, modify existing materials, and evaluate how changes in formulations affect products of durability.
Product main function:
◆ Full spectrum xenon lamp.
◆ A variety of filter systems for selection.
◆ Water spray function.
◆ Relative humidity control.
◆ Test chamber air temperature control system.
◆ Irregular-shaped flat product rack, easy to place products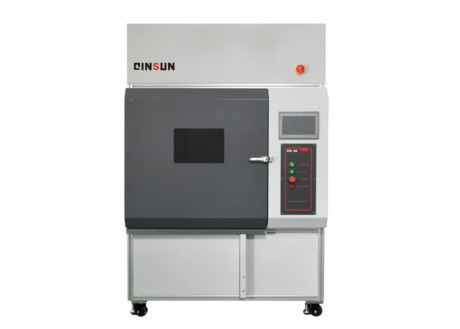 ◆ Xenon arc lamps imported from the United States.
◆Easy to install, easy to use and basically do not need routine maintenance.
◆ The service life of the xenon arc lamp depends on the level of irradiance used. Generally, the life of the lamp is 1600 hours. Lamp replacement is quick and easy, and long-lasting filters ensure the desired spectrum is maintained.
◆ The latest air-cooled technology xenon lamp solves the problem of high failure rate of the water-cooled xenon lamp cooling method. It is convenient for users to replace the lamp by themselves; maintenance is simple and convenient.
Main features of the equipment:
1. Ventilation cooling device: The temperature ventilation and cooling system of the test chamber is automatically controlled by the temperature controller, and the cooling system is used in the chamber to cool down.
2. The control blackboard thermometer adopts wired transmission technology, which effectively improves the control accuracy.
3. Using optical fiber transmission to measure the radiation intensity of xenon lamp, to avoid the problem of measurement error caused by temperature.
4. A black panel thermometer BPT or a black standard thermometer BST is installed on the sample holder.
5. Device: In order to record the working time of each test, the equipment is equipped with a timer on the operation panel, which can control the time of the equipment, and the equipment will automatically shut down when the timing is over.
6. Protection device: In order to make the xenon arc lamp work normally without damage, the xenon lamp will automatically go out when the door is opened, and the whole machine will stop working.
If you want to get the Xenon lamp aging test chamber price, please pay attention to the QINSUN test instrument manufacturer and leave us a message!