The UV Accelerated Weathering Tester simulates damage caused by UV light, rain, and dew; materials are tested by exposing them to alternating cycles of light and moisture at controlled elevated temperatures.
It simulates the radiation effect of sunlight with UV lamps and dew and rain with condensation and water spray. In just a few days or weeks, UV irradiation equipment can reproduce damage that would take months or even years outdoors; Cracks, wrinkling, blistering, embrittlement, strength reduction, oxidation, etc.; its test results can be used to select new materials, improve existing materials, or evaluate changes in material formulations.
UV Accelerated Weathering Tester meets standards
GB/T14552-2008, GB/T16422.3-1997 GB/T16585-96, GB/T16585-1996, GB/T16422.3-1997: ASTM D4329, ISO 4892-3, ISO 11507, SAE J2020, etc.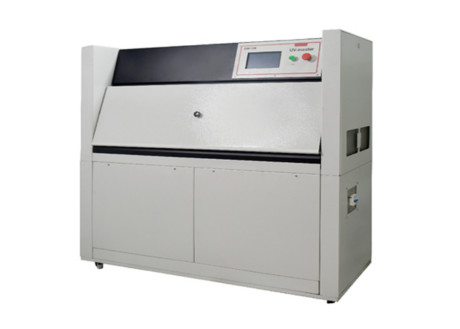 Technical features:
1. Provide comprehensive and detailed real-time monitoring and curve recording for important test parameters such as irradiance, temperature, and time (the controller has a recorder function), and can also generate reports and curve printing through the computer.
2. The irradiation/condensation/water spray test can be performed alone, or any combination of irradiation/condensation/water spray test can be programmed.
3. It adopts 7-inch super large true color touch screen control system, which has good stability, accuracy, monitoring, operability and maintainability.
4. Provide a life reference for imported UV lamps with expensive materials, which is convenient for users to confirm the replacement time of the lamps and saves the cost of use. Through the irradiance measurement and control device (sun eye), the real irradiance can be measured and actually controlled, so that the irradiance can be automatically stabilized at the set value, and the service life of the lamp can be greatly extended.
5. The automatic water supply and drainage design is adopted, and it is matched with a high-cost high-power water tribute to ensure the flow rate and uniformity of the water spray.
6. Most of the main components use big brands, such as French Schneider, Japan Omron, etc., which improves the safety and reliability of the product.
UV Accelerated Weathering Tester is suitable for the aging test of non-metallic materials against sunlight and artificial light sources. If you want to know more about it, please leave us a message!