Multi Finger Scratch Tester
is an efficient and accurate tester for measuring flat products such as travel cases, carpets, cardboard, clothing, glass, plastic coatings, tiles, etc. It is used to evaluate the abrasion resistance of materials, including mass loss, thickness loss and light transmission rate.
Friction resistance tester test principle.
The material to be tested is placed on the turntable, and two abrasive wheels are pressed on the material with a certain weight to make it subject to abrasion. The abrasive wheels rotate with the rotating surface of the sample disc to produce relative motion and abrasion, and the offset of the abrasive wheel shaft relative to the rotating axis of the turntable during rotation produces a slippery motion, thus abrading the material.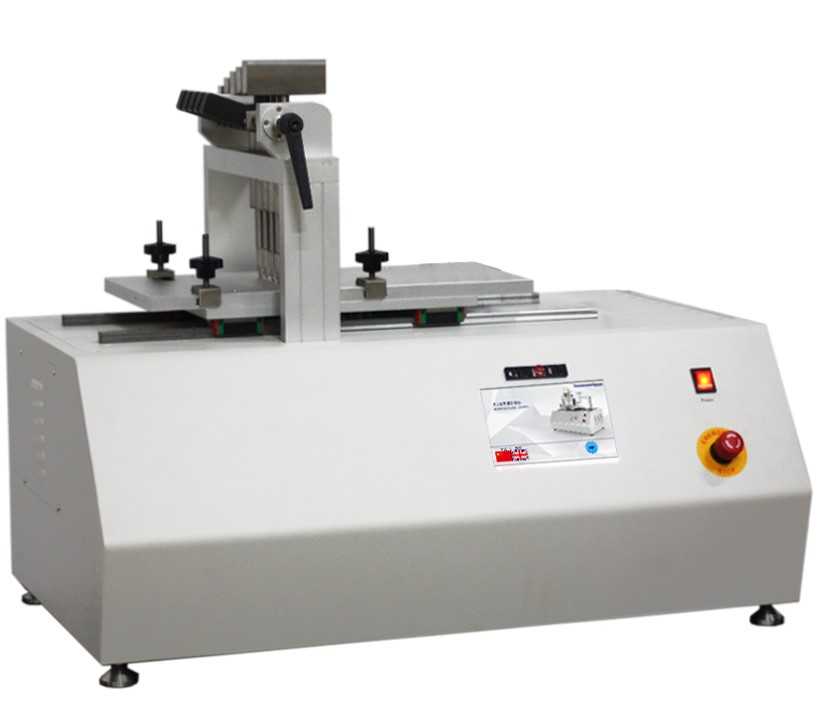 Simulation of real test conditions
:
For different material properties, a variety of different abrasive media and accessories can be selected for different tests; in addition, the test can be repeated on the same point of a material, as thick as possible about 0.5" of material broken or worn off; in addition, two rotational speeds (60, 72 rpm), 0-50,000 rpm (can be quickly set to 100, 500, 1000 or 2500 rpm) and 3 types of load.
Finger Scratch Tester Advantages
:
This Multi Finger Scratch Tester has a unique abrasion process, realistic simulation conditions, vacuum cleaner to remove abrasive chips, which can ensure the stability and accuracy of the test, to achieve reliable test results, and the selection of the selected abrasive wheel selection by strict quality control, high quality, good stability.
Friction resistance tester technical parameters:
1, with 60, 72 rpm two kinds of speed adjustable;
2, 0-50000 (can quickly set 100, 500, 1000 or 2500 rpm) rpm;
3, with 250g, 500g and 1000g three kinds of weight optional;
4、115/230V, 60/50Hz dual voltage switch;
5、Through the operation panel, you can control the number of revolutions selection key, vacuum degree, the number of revolutions that have been rubbed, running vacuum cleaner, internal memory system can record the number of revolutions in case of sudden power failure.
Conform to standards:
ASTM D3884、ASTM D1175、ASTM D1044、ASTM D4060、TAPPI T476、ISO 9352、ISO 5470-1、JIS K7204、JIS A1453、JIS K6902、JIS L1096、JIS K6964、DIN 52347、DIN 53109 DIN 53754, DIN 53799 and many other standards.
Multi Finger Scratch Tester application areas:
Travel cases, carpets, cardboard, clothing, glass, plastic coatings, tiles, metal plating, paints, varnishes, decorative flakes, high-pressure flakes, plastics, textiles, resilient floor mats, traffic paint, anodized layers, blankets, electronic parts, decorative panels, waxes, labels, holsters, dental materials, automotive interiors, resins, furniture, etc.
QINSUN also provides testing instruments such as
Five Finger Scratch Tester
,
Multifinger Scratch Hardness Tester
, and Motor Pencil Hardness Tester. If you want to know more about
Multi Finger Scratch Tester
, please send us a message!