What is the pilling and snagging tester? Testing equipment used to test the fuzzing and pilling degree of textiles includes disc pilling instrument, martindale pilling instrument, box pilling tester and so on.
The classification of pilling test in domestic standards is too fine, which is easy to be confused. For example, GB/T4802.3—1997 is applicable to most fabrics, and only wool knitting is the most suitable; However, GB/T4802.2—1997 and GB/T4802.1—1997 are applicable to all kinds of textiles, so that enterprises cannot choose which standard when testing. Shanghai Qianshi answers for you.
According to the test principle and conditions, the flip-box test (including Orbitor instrument) can be tested under no pressure, while the other two methods are actually tested under slight pressure, and the results are obviously different.
For textile export enterprises, facing the different standards of trading countries, it is more difficult to test the fuzzing and pilling of textiles. Judging from the testing methods in most textile importing countries, they are generally limited to the box-turning method and the martindale method, and the latter method is mainly used for textiles with high requirements on fuzzing and pilling performance, because this method is closer to people's taking process.
The domestic
Fabric Pilling and Snagging Testers
are mainly divided into six types:
fabric roll box pilling tester
,
Martindale Abrasion And Pilling Tester
, round track pilling instrument, flip pilling tester, round track pilling tester and ICI nail hammer snagging tester. Now take several pilling instruments of Qinsun Instruments Co., LTD as reference:
Compliance with standards: BS5811/8479, IWSTM152, NEXT19, M&SP18/P18A/P18B/P21A, GB/T4802.3, BSENISO12945.1
Scope of application: It is used for pilling or snagging caused by normal wear. It is equipped with a unique controller, which can be tested at standard and other test speeds. It is also equipped with a programmable 30rpm reverse rotation system.
1. It can be equipped with 4 pilling boxes;
2. It has the function of positive and negative rotation;
3. Rotating speed: 20, 30, 40, 45, 50, 60, 65 and 70 rpm can be selected arbitrarily;
4. LCD screen displays all test parameters;
5. Equipped with an alarm function for the end of the experiment;
6. Good sealing performance;
7. Motor protection function: if blocked by external force, it can stop automatically and give an alarm.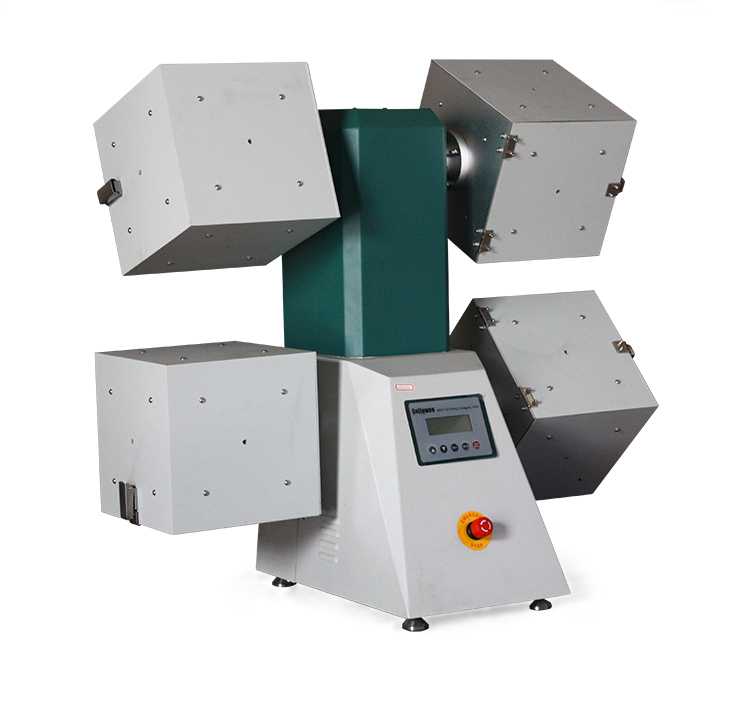 Comply with standards: ASTMD4970, ISO12945.2, GB/t4802.2/13775/21196.1/21196.2, ASTMD4966, ISO12947, FZ/T20020, BS3424-24/5690, iso12947. NEXT18/18a/18b,ISO5470-2,IWTO40,JISL10968.17.5MethodE,WoolmarkTM112/196,BSEN388/530/13770,ISO20344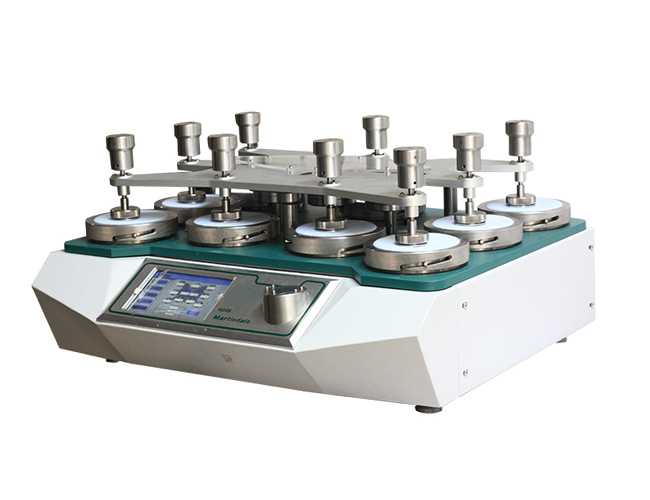 It can detect the wear resistance and pilling performance of various plants. Under a certain pressure, the sample and the specified abrasive are subjected to continuous reversing friction, and the wear and pilling degree are evaluated by comparing with the standard parameters. Touch screen control, equipped with a full-featured programmer, which can pre-program batch and total count, and set the count of each test head independently; Four speeds including standard speed can be selected.
1. Work number: 9 stations;
2. Counting range: 0 ~ 99999 times
3. Maximum travel: 60.5±0.5mm in transverse direction and 24±0.5mm in longitudinal direction
B. Weight of clothing sample: 395 2 g
C. weight of furniture ornament sample: 594±2g
D. Stainless steel butterfly piece: 260±1g
5. Effective friction diameter of grinding block:
Type a 200g(1.96N) friction head (9kPa)¢28.8-0.084mm
Type b 155g(1.52N) friction head (12kpa) < 90-0.10mm
6. Relative movement speed of the gripper and the grinding table: 20-70r/min (adjustable)
7. Mass of sample loading hammer: 2385±10g